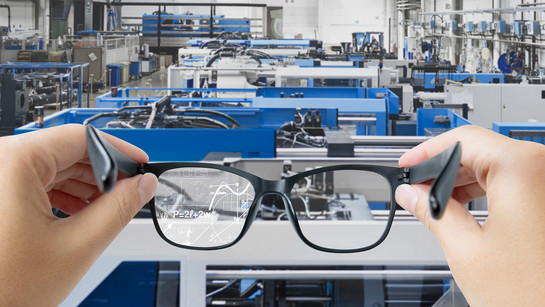 myConnect enables Smart Factories
myConnect is our answer to the digital age. The modular platform provides access to a wide range of functions, enabling you to react quickly in the event of a disruption to your production process. In addition, you have a real-time overview of all your data. The heart of myConnect is the fully integrated Site Control. This link enables direct communication with the CPU and HMI of your injection moulding machines with our software solutions. Using this platform, you can access a wide range of machine parameters and, for example, visualise your production data anytime and anywhere.

Send a service request to Sumitomo (SHI) Demag at any time directly from the machine operating terminal, your PC or a mobile terminal. We will connect remotely to the machine, carry out a precise analysis and solve the problem quickly.

Always have access to the latest version of all digital documents as they are updated by our headquarters. Ensuring you are accessing the most up-to-date documentation releases.

Identify the spare parts you require for your specific machines, and easily and quicky order them from our online catalogue.

Documenting all essential machine events, you can trace the entire history of any machine at the push of a button.

Monitor key figures, such as operating status, order progress, number of good/bad parts, or send and manage service requests.

Online support around the clock, with a guaranteed response time of three hours from the time a problem is reported. All mySupport functions, such as direct communication with our service staff, are integrated.

Common process adjustments can be carried out using the chat function, video or via a VNC connection. Providing your plant with immediate access to support.

Using fully-configured Smart Glasses, you can quickly resolve faults by communicating with our service staff over video chat. Interactive diagrams and documents are displayed directly on the glasses.

Visualise any processing values using up to 16 configured dashboards. For example, view the status of good parts in production, or current processing temperatures.

Establish e-mail notifications for defined events based upon your most critical needs.
Get an overview of all pending maintenance tasks for the entire connected machine fleet, including task documentation and recommendations for tools and consumables.
myConnect
Available for all machine series